Posted on: September 11, 2016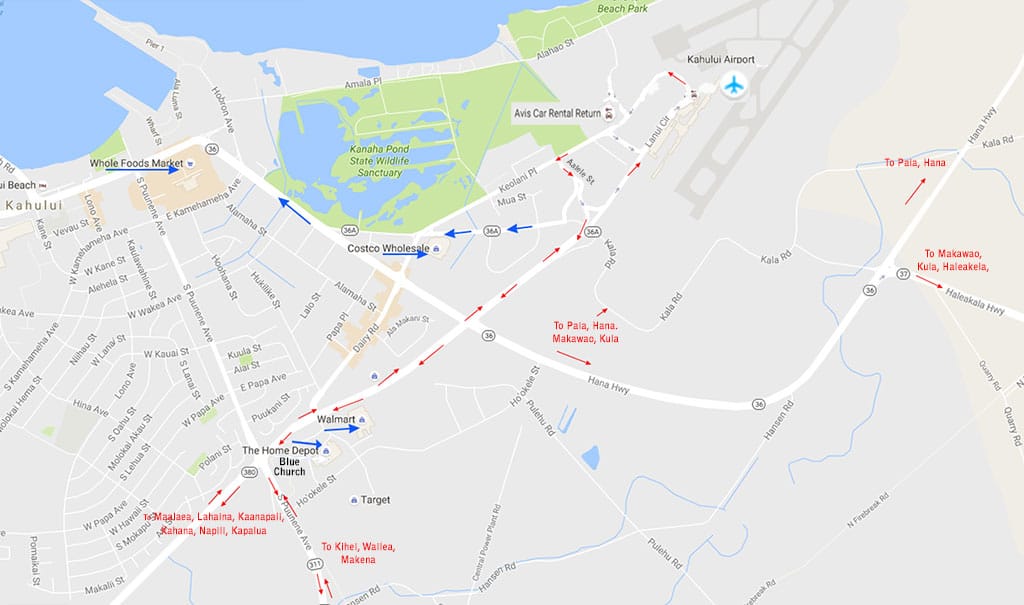 The wait is finally over. The new Maui airport access road is now open! This is great news for both those trying to get to Kahului International Airport (OGG) but also the shops and businesses along Diary Road.
How does traffic flow on the new airport access road?
In a nut shell, the access road was built directly from King's Cathedral (the "blue roof church") direct to the airport. Instead of driving down Dairy Road and all of the stop lights and traffic, you can now drive past Home Depot and Wal-Mart as you go in / out of the airport. This direct route should speed up your trip to OGG and allow shopping the Dairy Rd retail area to be less congested.
If you are coming from South Maui along 311 (Puunene Ave) you'll turn right at King's Cathedral and head straight ahead to the airport. Leaving the airport, just follow signs to the Airport Access Road and then make a left when you get to King's Cathedral. If you're heading to Maalaea, Lahaina or Kapalu then stay straight at the Cathedral onto route 380 (Kuihelani Hwy).
Can I still get to Costco and Whole Foods?
Yes you can! When leaving the rental car area stay straight on Keolani Place. Continue onto Dairy Rd and Costco will be on your left. Looking for Whole Foods? Take a right onto 36A (this feeds into Hana Hwy) and Whole Foods will be on your left at the Maui Mall.
Who paid for the new road?
Everyone that rented a car at the airport. You remember the daily $4.50 fee added to your car rental bill? Yep, add that up and this fund is what paid for the $56 Million dollar rad – and water feature. Which, I like the water feature as it is non-potable water and is used for irrigation for area landscaping.