Posted on: November 11, 2023
E komo mai! Welcome back to Maui! As we open our arms to greet visitors once more following the lifting of all travel restrictions in October, it's crucial that we band together to support the island in the wake of the recent wildfires. The aftermath of the wildfires continues to cast a shadow over our beloved island, affecting both its natural landscapes and the well-being of its communities. In this critical time, your support is crucial in aiding Maui's recovery and rejuvenation efforts. Here's how you can mālama Maui after the recent wildfires.
Know Where to Go
To get started, make sure you know what areas of Maui you can visit. The map below reflects the current conditions on the island of Maui, per the Office of the Governor, State of Hawai'i; the County of Maui; and Hawai'i Tourism Authority government entities. To ensure that everyone is communicating the most current and updated information, please use this link to check the most updated map as changes continue to evolve. Link: https://www.hvcb.org/maui-map/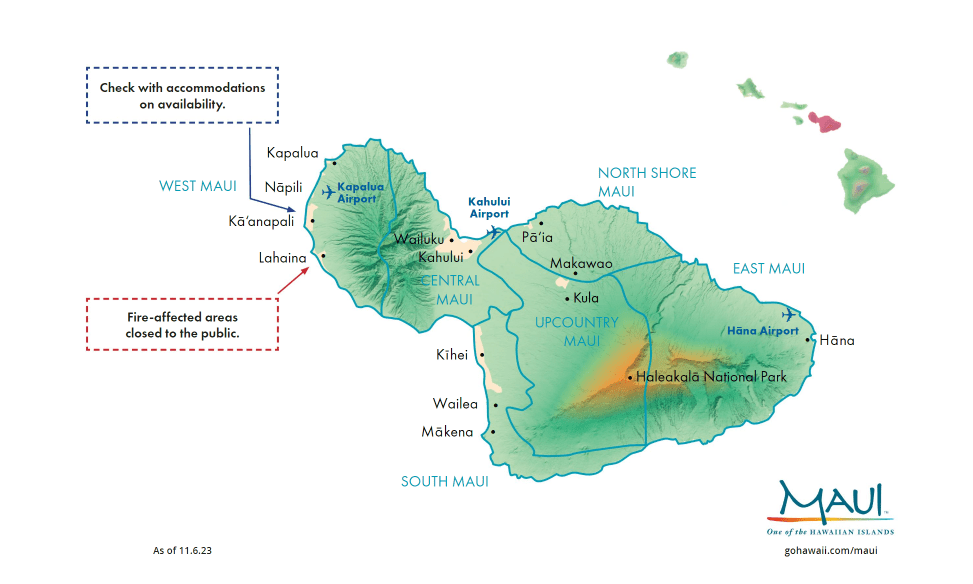 Ways You Can Assist in Supporting Maui
The wildfires have left a lasting impact, not just in terms of the physical damage to Maui's environment but also in the lives of the locals and businesses that form the heart of this community. Many businesses that contribute to Maui's unique charm and identity have been significantly impacted, creating a need for collective support and resilience to help them bounce back stronger than ever. So, let's take a look at how you can help in supporting Maui:
Supporting Local Businesses: Nurturing Resilience

Maui's local businesses are an integral part of the island's identity. By consciously choosing to patronize these establishments, you directly contribute to their revival. Indulge in the flavors of local cuisine, explore the craftsmanship of indigenous artisans, and avail yourself of services provided by the resilient members of our community. Your support not only aids their recovery but also serves as a testament to the unwavering spirit of Maui.

Visit https://www.mauinuifirst.com/ for suggestions.


Volunteering for Rebuilding Efforts: Making an Impact, One Step at a Time

Consider joining hands with local organizations and community-led initiatives dedicated to rebuilding Maui. Whether it's contributing to clean-up drives, participating in reconstruction projects, or assisting in relief operations, your active involvement can make a tangible difference in supporting Maui. By volunteering your time and skills, you become an integral part of the collective effort to restore Maui's vibrancy and strength.

Hosting volunteers in direct recovery work may be difficult at this time, however, there are plenty of ongoing opportunities you can explore.


Promoting Conservation: Safeguarding Maui's Natural Beauty

The preservation of Maui's exquisite natural beauty is essential for the island's long-term sustainability. Embrace eco-conscious practices during your stay, minimize your ecological footprint, and engage in conservation programs aimed at protecting our delicate ecosystems. By adopting a mindful approach to your travel activities, you actively contribute to the preservation of Maui's pristine landscapes for future generations to enjoy.


Spreading Awareness: Amplifying the Call for Support

Your experiences and stories of Maui can play a significant role in spreading awareness and encouraging others to participate in the island's revival. Share the narratives of resilience, highlight the initiatives making a difference, and inspire others to engage in responsible tourism practices. By amplifying Maui's journey towards recovery, you contribute to the collective narrative of hope and perseverance for this cherished destination.


Making a Difference: Donations for Maui's Recovery

In addition to active participation, consider contributing to Maui's recovery through donations to verified local charities and relief funds. Your financial support can aid in providing essential resources, shelter, and assistance to those directly affected by the wildfires. By making a donation, you play a crucial role in ensuring that the community receives the necessary support to rebuild and recover from the recent challenges, fostering a stronger and more resilient Maui.

While relief efforts continue in West Maui, you can also make a donation to help communities and families recover through the Maui Strong Fund.


Respecting Lahaina: Learn about the Historical & Cultural Significance

We encourage visitors to learn about the cultural and historical significance of Lahaina, but urge you to stay away from the area as a means of respect for the people and places that have been lost during this devastating tragedy. Do not take photos of the area, even from afar. Here are additional travel tips to help you visit Maui with respect and compassion:

Pack your patience and grace: You may experience longer wait times than you're used to for food and other services so be sure to act with compassion and understanding.
Support local businesses: As we mentioned above, one of the best ways to support Maui at this time is by shopping at local businesses that rely on tourism for their families' livelihood. Visit MauiNuiFirst.com for various ways to eat, shop, play, stay and support local.
Don't enter Lahaina Town or take photos of the area, even from afar: The area is restricted because the current conditions can be hazardous to your health. Respect the privacy of the survivors and the dignity of those who lost their lives.
Don't ask about a resident's personal experience with the disaster: Though you may be curious, please refrain from asking visitors questions such as, "Were you impacted by the fire?" as many survivors may not be ready to share their stories with others.
If you come across a memorial service or private gathering, leave the area: Do not take photos or videos, and leave the area immediately so that you may respect the gathered survivors and residents.

Maui Travel FAQ
Where can I find the latest information and updates on the situation?
For the latest updates, official channels will be your best bet, including the following:
What businesses on Maui are currently open following the wildfires, and how can I find updated information?
Maui Now is actively tracking businesses affected by the recent wildfires, providing real-time updates on their operational status. This includes information on businesses that are open, temporarily closed, or permanently closed. To access the latest updates on what's open on Maui, you can refer to the Maui Now website.
I'm interested in volunteering. Are there any community-led initiatives or organizations that I can join during my visit to Maui?
Maui has several community-led initiatives focused on rebuilding efforts post-wildfires. You can join clean-up drives, participate in reforestation projects, or assist in community rebuilding programs. Local organizations and community centers often welcome volunteers and offer various opportunities to contribute to Maui's recovery. Learn more about them here.
How do I respectfully travel to Maui right now?
Respectful travel to Maui means approaching your visit with aloha and empathy. Be patient with potential service delays and show compassion for those you meet, as recent events may have left lasting emotional impacts. Please avoid visiting Lahaina out of respect for its residents still in the process of healing. Support local businesses, consider volunteering, and contribute to the recovery efforts.
A Heartfelt Mahalo for Your Contribution to Maui's Renewal
We extend our heartfelt gratitude for your support and dedication to Maui's recovery. Your contributions, no matter how small, have a significant impact on our path to rebuilding and rejuvenation. Together, let's continue to embody the spirit of aloha and work towards a stronger, more resilient Maui for all to enjoy.
When the day's adventures come to an end, and you're seeking a place to unwind, Wailea Ekahi Village Pauli Family Condos warmly welcomes you home. Discover the comfort and tranquility of our available vacation condos by exploring our website. We look forward to hosting you amidst the stunning beauty of Maui's shores. See you soon in paradise!