Posted on: April 27, 2019
Edit: Making her first appearance on our blog is the lovely, Lory Zars Pauli – Matt's wife. She is a foodie and an amateur photographer. We'll see more of her writing throughout our website and social media.

The Best Appetizers on Maui
One of my favorite ways to eat at a restaurant is skipping an entrée and ordering a few appetizers! The food on Maui is so wonderful with all of the fresh seafood, fruits and vegetables and the restaurants do not disappoint when it comes to appetizers offered on island!
Matt knew I have an array of food pictures and as he says, "knows my stuff" about Maui restaurants. So it's only natural my first post is on food! He suggested my favorite appetizers. It's easy, I'd say ALL! Well, there are a few I'd avoid Pupu Lounge). It was really difficult trying to narrow it down not only to a list of seven, but then having to rank them as well! I hope you enjoy them as much as I do!
Top 7 appetizers on Maui
You can find Ahi on pretty much every menu on Maui. The trick is to find the BEST. Well, this is one of the best! The Ahi is SO fresh and they cut and sear it perfectly. It is then paired with a lightly sweet sauce made with hints of mustard and beer. A match made in heaven!
6. "Ahi on the Rock" at KO in the Fairmont Kea Lani (Wailea)
You get to sear your own Ahi Tuna on a smooth black rock that is fire hot when they bring it to your table. You sear it to your liking and then dip it in a fabulous sauce that accompanies the tuna. So simple, delicious and fun! Our 4.5 year old had fun searing the Tuna too!
5. "Haleakala Ranch Beef in a grilled Hana Papaya" at Mama's Fish House in Paia.
This is not something I would normally order, as I always gravitate towards the seafood, however, Matt ordered it once and I was jealous it wasn't mine! The beef is so tender and has a light sauce that is just delicious. It is served in a perfectly ripe papaya that pairs perfectly with the beef. Delish!
We go to Tommy Bahama multiple times each trip as it is a favorite restaurant and it's also close to our condos at Ekahi Village. EVERY time I go, I must order this appetizer. It is a pretty large round of macadamia crusted goat cheese drizzled with a sweet soy sauce and topped with the best mango salsa I've ever had! They serve it with crispy flatbread crackers and it's the perfect combo of sweet and savory! Hint, Happy Hour is at the bar only from 2 – 5 pm, and the goat cheese is on the Happy Hour menu. Pair this with their freshly made Margaritas and you'll be truly happy.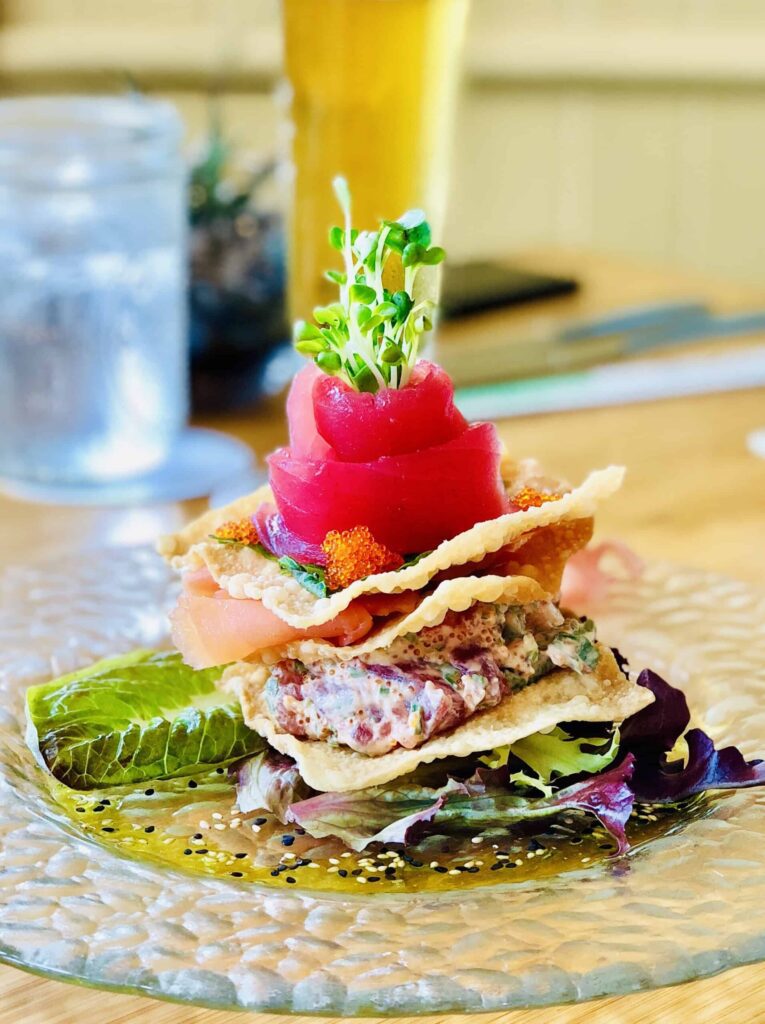 3. "Cake Walk Trio" at Lahaina Grill in Lahaina.
I love sampler platters! This little sampler gives you three mini seafood cakes all on one plate! You get a lobster/crab/scallop cake with avocado relish and a mustard cream, the next is a seared ahi tuna cake with avocado, sushi rice, nori and a tamari ginger vinaigrette and finally a white shrimp cake with hoisin and crème fraiche. Simply amazing! On a side note, this is one of our favorite restaurants on island. Just off Front Street in Lahaina, skip the restaurants on Front Street and step into Lahaina Grill. You'll love it!
2. "Ahi Poke" at Fleetwood's in Lahaina
Ahi Poke is a Hawaiian staple and you can find it everywhere! I absolutely LOVE it, however, it has to be done right and I'm very picky about the Ahi Poke I favor. My favorite is the preparation at Fleetwood's! It's not your traditional prep, but it's the tastiest to me! I like my Poke on the sweeter side with a bit of a kick and this is the perfect combo! It is served on crispy wonton chips, which takes it over the top!
Drumroll, the best appetizer on Maui is..
All is can say is WOW to this appetizer. When I first had it, I was blown away. I now order it each time I'm on Maui and crave it when I'm not! It is the most perfect combination of ahi tartare, smoked salmon and ahi tuna stacked between crisp wonton sheets and drizzled with a wasabi vinaigrette. I'm attaching a picture of this masterpiece as it's a bit hard to visualize! It's almost too pretty to eat! If you get one appetizer on Maui, this is it! Enjoy!
I hope you have enjoyed this tour of my Top 7 Appetizers on Maui. We'd love to hear yours as well. There are so many great spots to eat on Maui, from the super expensive all the way to some really good food trucks.
Of course, if you're going to head all the way out to Maui to try the food, you'll need a place to stay. It so happens we have several awesome condos we rent in Wailea. Check us out, The Pauli Family Condos at Ekahi Village.