Posted on: July 22, 2022
When you're looking for a Maui condo that has it all, Wailea Ekahi Village checks all of the boxes. Amenities inside and outside set the perfect scene for a tranquil and gorgeous vacation. Today, we want to explore some of the amazing resort amenities we offer as well as talk about some new additions coming in the future!
Condo Indoor Amenities
Relax and unwind in a tranquil space that is just steps away from the ocean. Each unit offers unparalleled views of the lush landscape from the privacy of their lanai. Our condos offer everything from the West Maui Mountains on the north end to Molokini and whale watching towards the south – there are no bad views! And you can pack light because you'll have access to full kitchens as well as a washer/dryer in your condo. The best part is, if you're ever in need of anything, we have a free concierge service
Condo Outdoor Amenities
Despite how amazing your accommodations with us may be, we know that you came to Maui to be outdoors. With amenities like 34 acres of oceanfront area to explore, 4 pools, an oceanside pavilion and more, there is a lot to do! Come enjoy these Wailea Ekahi Village Maui resort amenities:
34 Ocean Front Acres
If you're used to seeing the huge resorts with tall buildings, tight walkways and bustling areas of people – that is the opposite of what you'll get at Wailea Ekahi Village. There are 34 acres of lush ground for you to explore and enjoy. Soak in the sun and let the ocean breeze roll across your skin while you get to know the landscape of Maui.
Private Beach Access
Overcrowded beaches and swarms of people are not on the agenda when it comes to your beach day. Enjoy our private locked access to Keawakapu Beach. This sandy beach oasis gives way to gentle ocean waves that are perfect for swimming and snorkeling.
Four Pools
The expansive property calls for multiple ways to cool off. If you need a break from the ocean waves, take a dip in one of our four tranquil pools. Located around the property, they are equipped with tables, umbrellas and lounge chairs so that you can relax however you want to.
Oceanside Pavilion
Our oceanside pavilion is the perfect place to host friends and family or just relax with a good book. Featuring Wi-Fi, a full kitchen, grilling area and shower rooms, it has everything you need all in one place.
Pickleball Court
If you've got a competitive nature, take it to the pickleball court! Have some fun and play a few rounds all while being surrounded by tropical landscapes. Who says you can't have it all?
Multiple BBQ Areas
Is there anything better than firing up the grill while surrounded by the best views that Maui has to offer? The latest addition to the Wailea Ekahi Village compound is six new BBQ sites around the property. This gives our guests the freedom of being able to utilize a grill without having to travel too far from their condo. In fact, the easy accessibility of our multiple BBQ areas is going to give you the chance to really taste Maui. Local fresh fruits, vegetables and meats are the only things you'll need to let your tastebuds enjoy Maui. Check out our new BBQ layout below and start planning your feast.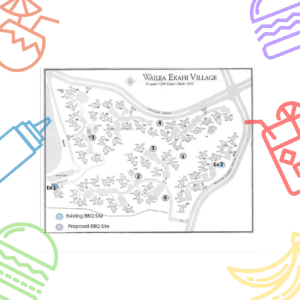 Whether you're excited about our gorgeous accommodations or you're ready to get outside and explore, the amenities at The Pauli Family Condos at Wailea are unmatched. Luxurious and tranquil days are just a click away. A hui hou – Until we meet again!