Posted on: June 7, 2017
One of the great things about heading to Maui is that not only is the weather almost the same year around (Maui Weather) but it is a very casual beach location. This makes answering the question: What to pack for Maui? an easy task.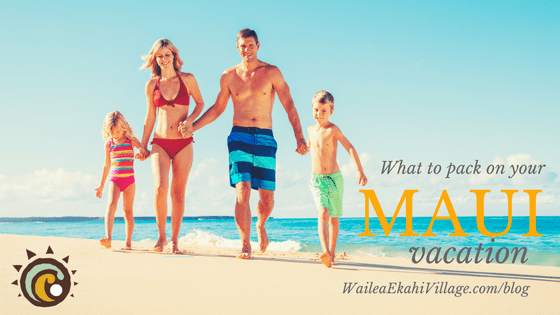 Get ready to pack for Maui!
Tank tops
T-shirts (we like comfy printed one like Tommy Bahama)
Shorts – make sure you have pockets for your mobile phone, pool keys, & sunscreen
Swimming attire
Flip flops
Hats
Water-proof phone case
Sun dresses and linen pants for nice evenings out (though Men can wear golf shorts / dress shorts nearly everywhere)
Sunscreen (although make sure to check out Maui Babe browning lotion once you get on island if you are looking for an authentic Maui-bronzed look!)
Minimal toiletries
Tennis shoes and sweatshirts (if you are planning to go hiking upcountry or watch the sunset atop Haleakala it can get a little chilly up there in the morning and at night)
Water shoes (great for the road to Hana to climb and hike to all of the waterfalls)
Forget something? You can shop!
You can really pack lightly if you plan on staying in Wailea, where The Shops at Wailea is within walking distance. Here you can find the latest Maui fashions and beach wear from stores such as The ABC Store, Tommy Bahama, Billabong, Carolina, and more (check their store directory). Make sure to follow the cookie smell to Maui Cookie Company and sample the amazing shortbread cookies. Don't forget to ship some back home, too!
Condo living makes packing much easier because we provide a home away from home experience. Here are all the things you don't have to worry about lugging on the plane for your Maui stay:
Beach towels
Beach chairs
Beach toys
Coolers
Water bottles
Hair dryers
Soap, shampoo, conditioner (if you have a favorite you may want to bring yours)
The best thing to pack for Maui? No need to bring a ton of clothes! All of our condos are furnished with a full-size washer and dryer with laundry detergent. So you will not need to bring a pair of undies per day or 4 pairs of golf socks. Use the laundry – you can even wash your clothes before you pack, so when you get home your clothes are ready to put away!
Looking for a Summer special to Maui?
Don't have your tripped booked yet or looking for a last minute getaway deal? Be sure to check out our specials page for 20% off qualifying stays!