Posted on: August 23, 2023
Although we understand that these are challenging times for many, we wanted to take a moment to address a matter of great significance that has deeply affected the beautiful island of Maui – the recent wildfires in Lahaina.
First and foremost, our hearts are heavy as we extend our most heartfelt condolences to those who have lost loved ones, homes, jobs, and indeed, everything they hold dear as a result of these devastating wildfires. The pain and loss experienced by the people of Lahaina and Maui as a whole are immeasurable, and our thoughts are with them during this difficult period.
Amidst the sorrow, it's crucial to recognize that Maui, a place renowned for its natural beauty and warm hospitality, relies heavily on tourism as a pillar of its economy. It's not just a vacation destination; it's a community that thrives on the connections and support of visitors like you. The economic impact of these fires has been profound, affecting local businesses, the livelihoods of countless residents, and the island's overall recovery efforts.
As we contemplate the road to rebuilding and healing, we wish to invite your support to help make a significant difference. By choosing to visit Maui and patronize its local businesses, you become an integral part of the recovery process. Your presence provides a beacon of hope for those who have lost so much and helps Maui on its journey toward renewal and revitalization.
Said Hawaii Governor Green, "When you come, you will support our local economy and help speed the recovery of the people that are suffering right now."
The Hawaii Visitors and Convention Bureau continued with their recommendation to visit Maui stating: We encourage travelers to continue visiting other areas of Maui (including Kahului, Wailuku, Kīhei, Wailea, Mākena, Pāʻia and Hāna).
Our housekeepers, staff and all those working in South Maui are in need of your support. We recently received this email from one of our staff:
"Just wanted to share this with you because my phone is ringing off the hook with people feeling guilty about traveling here now. I'm also getting cleaners coming out of the woodwork, calling me for work and desperation due to the cancellations.

I know there's much negativity due to some disrespectful tourists not respecting the emotions of those who have lost so much and mainland news exploiting that the entire island has burned down. The west side of the island is closed, but the rest of the island is open.

We are all sad and grieving in one way or another. The reality is our island people can't afford another shut down or we will have more homeless and hungry 😥 Those who worked on the west side will depend on the other side to sustain them for some time.

Visitors need to be compassionate as many are still in shock."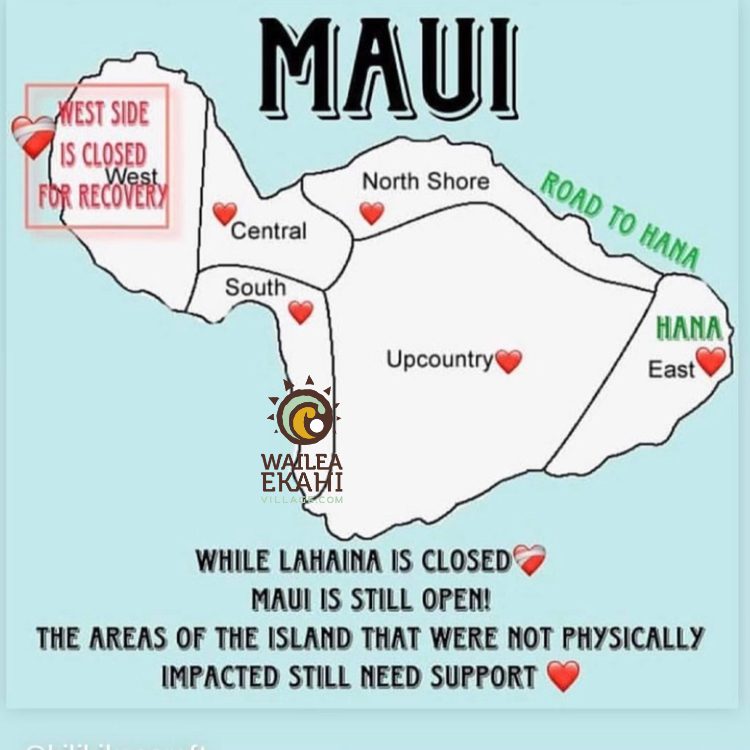 The resilience of Maui's people is awe-inspiring, and your decision to visit is not just a vacation; it's a gesture of solidarity and support for a community in need. You can contribute to the island's recovery by dining at local restaurants, shopping at boutique stores, and exploring its natural wonders while respecting the environment and local guidelines.
Ekahi Village, Wailea and the whole south side remain untouched and are as normal as can be at this time.
Edit: I just received this message on Aug 24th from a guest at Ekahi: "
Matt:
As you know, we are guests now in one of your Ekahi Village Condos. We come often to Maui, and admittedly, were a bit hesitant to come at this time.
Here in Wailea, you would never know that the fires existed. It is as it always is, an incredibly beautiful paradise that soothes the soul. There is no smoke, no ash, no supply problems. Restaurants are open with full menus, and dare I say full bars! Traffic is much lighter, planes are more empty and the beaches are serene. It is as it must have been decades ago, and the experience is wonderful.
We are so glad we came. Our visit here, incredible as it is, is made so much more wonderful by knowing we are supporting the people of Maui.
Regards,
Brian and Gail"
The spirit of aloha that Maui is known for remains unbroken, and together, we can help this island shine once more. Your visit, your support, and your compassion matter profoundly.
If you are not ready to visit, we understand. But please consider a donation to help support Maui. Previously we wrote this piece with suggested donations.
Thank you for considering Maui and Ekahi Village as your destination, and for being part of the healing process. We are confident that, with your help, Maui will rise stronger and more vibrant than ever before.
A hui hou,
The Pauli Family Condos