Posted on: May 25, 2023
Get ready to embark on a remarkable journey through the legendary ʻĪao Valley State Monument! After a temporary closure, the park has reopened its gates, welcoming visitors back to its awe-inspiring beauty. However, keep in mind that advance reservations are now required for out-of-state residents and an entry fee of $5 per person for non-residents applies. Now, let's jump into the wonders of this lush park, its rich history, and how this new fee aims to preserve the park's natural treasures.
Reopening the Gates to Paradise
For nature lovers who have been eagerly awaiting the chance to wander through the lush landscapes of ʻĪao Valley Park, the time has come. Following necessary renovations and restoration efforts, the park is set to reopen, inviting visitors to immerse themselves in its captivating wonders once again. Whether you're a first-time visitor or a returning adventurer, prepare to be captivated by the park's ethereal beauty and breathtaking scenery.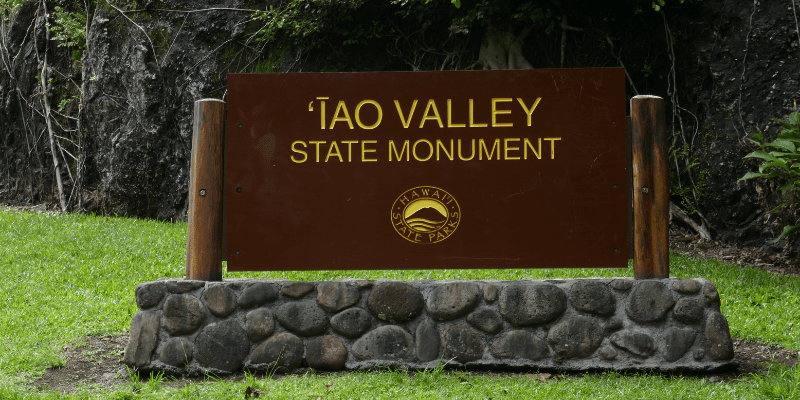 Discover the Secrets of Maui's ʻĪao Valley State Monument
Nestled in the heart of Maui, ʻĪao Valley Park is a haven of tranquility and natural splendor. Steeped in history and cultural significance, this verdant valley beckons explorers to unravel its mysteries.
Marvel at the iconic ʻĪao Needle, an erosional feature that abruptly rises 1,200 feet from the valley floor.  
Learn more about plants brought by the Hawaiians who settled in ʻĪao Valley by walking through the botanical garden.
Explore the site of the battle of Kepaniwai where the forces of Kamehameha I conquered the Maui army in 1790.
Embark on scenic hikes through lush rainforests, where exotic flora and fauna flourish.
And don't forget to pause by the tranquil streams and cascading waterfalls that weave their way through the valley, offering moments of serenity and reflection.
Preserving Paradise: The Non-Resident Entry Fee
With the reopening of ʻĪao Valley Park comes an important announcement: non-residents will now be required to pay an entry fee. This change aligns with a broader initiative in Hawaii to protect the state's natural wonders while ensuring sustainable tourism practices. By implementing an entry fee, the park aims to generate funds that will contribute to the preservation and maintenance of the park's fragile ecosystems, trails, and cultural sites.
Reservations can be made here
Hours: 7:00 am to 6:00 pm daily
Entrance Fee: Non-Residents – $5 per person; children 3 and under – free
Parking Fees: Non-commercial vehicles of non-residents: $10; check their website for commercial parking rates
Supporting Sustainability and Conservation
The introduction of the non-resident entry fee is not solely about funding; it's a commitment to sustainability and conservation. By regulating visitor numbers, the park can strike a balance between allowing exploration and safeguarding the delicate environment. The fees collected will support initiatives such as trail maintenance, ecological restoration projects, and educational programs, all of which contribute to the long-term protection of this natural gem. ʻĪao Valley State Monument will be the fourth park in Hawaii to charge non-residents with an entry fee, including:
Waiʻānapanapa State Park on Maui
Hā'ena State Park on Kaua'i
Lē'ahi — Diamond Head State Monument on O'ahu
As well as the City and County of Honolulu's Hanauma Bay Nature Preserve
Planning Your Visit
Now that you're aware of the exciting reopening of Maui's ʻĪao Valley State Monument and the introduction of the non-resident entry fee, it's time to plan your adventure. Make sure to check the park's official website for the most up-to-date information on entry fees, opening hours, and any additional guidelines for visitors. And for a truly unforgettable experience, why not enhance your stay by booking accommodations at Wailea Ekahi Village? This resort offers a retreat surrounded by tropical beauty where you can relax in comfort and style. Discover the perfect accommodations and pack your sense of adventure, support conservation efforts, and embark on an extraordinary journey through the wonders of the ʻĪao Valley State Monument.